ST- Series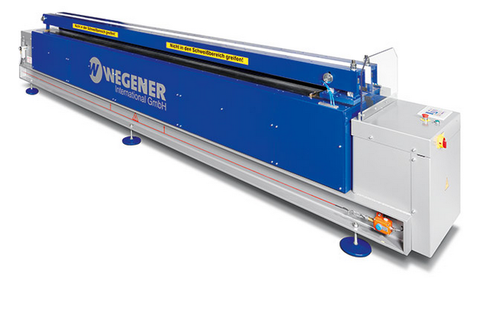 ST- Series
Product Description
Features:
Patented mechanical synchronization of the working tables; a novelty to achieve a homogeneous application of pressure in the weld seam area
Process forces regulated via proportional valve
Siemens S7 control system with 5.7" full graphics touch screen
Machine design based on a sturdy welded framework construction. All of the machine's components are matched to the relevant load case to ensure the top quality welding of plastics
Welding tables in composite construction to eliminate torsion stresses and provide stiffness
Pneumatics equipped with maintenance friendly valve clusters of the latest generation
Integrated and highly dynamic electronic heating element temperature control
Flexibility to end or stop the process times during the welding cycle
Robust and in the clamping bar integrated non-rotating clamping feet
High quantity of decoupled and anti-twist protected clamping feet in order to match perfectly to each sheet length
Highly flexible suspension of clamping feet for secure fixation of sheet adjacent to the welding area
Interpretation of the max. machines forces on an 8 bar compressed air supply
Ergonomic cleaning position for the heating sword
Ergonomic working table height
Range of Application: Range of Application Manufacture of reservoirs, tanks and containers, manufacture of plastic apparatus, pipeline construction, ventilation systems, serial welding, water treatment systems, scrubbers, environmental technology, swimming pools, transport and logistics.
Materials: PE, PP, PVDF and other weldable thermoplastic material.
Technical Data
ST 225
ST 325
ST 425
Machine Length (mm):
3,550
4,550
5,550
Machine Width (mm):
800
800
800
Machine Height (mm):
1,100
1,100
1,100
Total Weight (kg):
2,150
2,700
3,300
Max. working width (mm):
2,050
3,050
4,050
Sheet Thickness to be welded (mm):
PE [0.15 N/mm²]:
3 to 25
3 to 25
3 to 25
PP [0.10 N/mm²]:
3 to 25
3 to 25
3 to 25
PVDF [0.10 N/mm²]:
3 to 25
3 to 25
3 to 25
PVC-C at 6 bar [0.50 N/mm²]:
3 to 7.50
3 to 7.50
3 to 7.50
PVC-U at 6 bar [0.60 N/mm²]:
3 to 6.25
3 to 6.25
3 to 6.25
Min. channel cross section inside dimension (W x H in mm)*:
270 x 250
270 x 250
270 x 250
Min. cylinder diameter (mm)*:
350
350
350
Power Supply Standard:
230 V 1/N/PE 50/60 Hz
230 V 1/N/PE 50/60 Hz
Power supply with option height adjustable clamping beams:
230/400V 3/N/PE 50/60 Hz
230/400V 3/N/PE 50/60 Hz
230/400V 3/N/PE 50/60 Hz
Power consumption standard (kW):
2.5
3.5
4.5
Power consumption with option height adjustable clamping beams (kW):
4.5
6.5
8.5
Compressed air connection (bar):
8
8
8
Clamping force at full load pressure in kN:
15.4
28
37.5
Welding Force:
Min. Table force (N):
600
700
700
Max. Table force (at 8 bar in kN):
7.7
11.5
15.5
Heating element standard Teflon coated T max = 260° C (W x H in mm):
15 x 50
15 x 50
15 x 50
Heating element with option height adjustable clamping beams Teflon coated, T max = 260° C (B x H in mm):
20 x 80
20 x 80
20 x 80