SM x58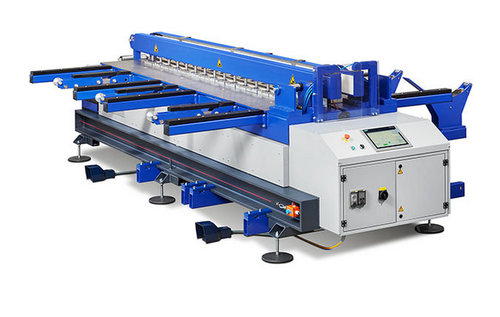 SM x58
Product Description
Features:

Solid machine base as a steel structure with integrated precision working tables in a sandwich design that are adapted to the loads
VARIO-clamping system 2. generation for adjusting the distance between the clamping plate and the edge of the table
Patented mechanical synchronisation of the working tables; a novelty to achieve a homogeneous application of pressure in the weld seam area
Process forces regulated via proportional valve
force-sensing system (incl. compensation of the tractive and frictional forces incl. position transducer) optional
Siemens S7-1500 with 12" Simatic-Touchscreen
Material property data record (parameter) with automatic choice of specific welding pressures, temperature and times
90° welding device (corner welds) incl. servoelectric height-adjustable heating sword and flow control value for the detection of the vaccum buildup and vacuum prisms
Adaptable circular drawing device, optional
Panels/Sheets up to 30 mm thick can be processed [PE/PP]
Range of Application:

Manufacture of reservoirs, tanks and containers, manufacture of plastic apparatus, pipeline construction, ventilation systems, serial welding, water treatment systems, scrubbers, environmental technology, swimming pools, transport and logistics.
Technical Data
SM 358
SM 458
SM 558
Machine Length (mm):
4,950
5,950
7,000
Machine Width (mm):
1,600
1,600
1,600
Machine Height (mm):
1,350
1,350
1,350
Total Weight approx. (kg):
5,300
5,900
8,400
working width (mm):
3,050
4,050
5,100
Sheet Thickness to be welded (mm):
PE [0.15 N/mm²]:
3 to 50
3 to 50
3 to 50
PP [0.10 N/mm²]:
3 to 50
3 to 50
3 to 50
PVDF [0.10 N/mm²]:
3 to 50
3 to 50
3 to 50
PVC-C at 8 bar [0.50 N/mm²]:
3 to 15
3 to 15
3 to 15
PVC-C at 10 bar [0.50 N/mm²]:
3 to 18.75
3 to 18.75
3 to 18.75
PVC-U at 8 bar [0.60 N/mm²]:
3 to 12.5
3 to 12.5
3 to 12.5
PVC-U at 10 bar [0.60 N/mm²]:
3 to 15.6
3 to 15.6
3 to 15.6
Minimum Channel Cross Section (mm):
300 x 350 *
300 x 360 *
330 x 415 *
Minimum Cylinder Cross Section (mm):
500
500
600
Power Supply Standard:
230/400V 3/N/PE 50/60 Hz
230/400V 3/N/PE 50/60 Hz
230/400V 3/N/PE 50/60 Hz
Power consumption standard (kW):
6.5
8.5
10.5
Compressed air connection (bar):
8 - 10
8 - 10
8 - 10
Clamping Force at 8.0 bar (kN):
48
64
100
Clamping Force at 10 bar (kN):
60
80
100
Welding Force:
Table Force min. (N):
800
900
1500
Table Force max. at 8.0 bar (kN):
23
30.5
38.5
Table Force max. at 10.0 bar (kN):
28.8
38.1
48
Heating Element (B x H in mm) Teflon coated, Tmax = 260 °C:
20 x 80
20 x 80
20 x 80