Plus Closed Slats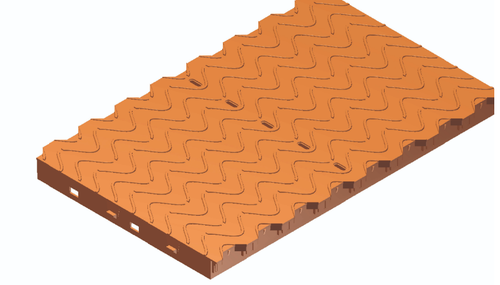 Plus Closed Slats
Product Description
Plus Closed Slats
Slip resistant- Panltim slats are slip resistant, without sharp elements, providing good grip.
Optimal hygiene- Paneltim slats provide good overall hygiene thanks to their rounded shape and high throughput. The slats are easy and fast to clean.
Easy installation- Paneltim slats are easy to install with an easy self-anchoring system.
Fast mounting- Thanks to a smart self-anchoring system in longitudinal and transversal direction the slats are quick to mount.
Durable- Panltim slats are slip resistant, without sharp elements, providing good grip.
Ecological- Paneltim slats are 100% recyclable and keep their raw material value. The slats are free of toxic substances and are compliant to EU regulation 2011/65/EU. When renovating the slats can be reused
Material- PP COPO
Height- 50 mm, 15 mm (2", 0.59") above supports
Dimensions Slats
200 x 400 mm (7.87" x 15.75")
200 x 500 mm (7.87" x 19.69")
800 x 500 mm (31.50" x 19.69")
Side support- 200 mm (7.87")
Durable- Paneltim Plus open slats are resistant against almost all chemical substances. Thanks to their rigidity they are very resistant to dynamic shocks.
No corrosion- Paneltim Plus closed slats are corrosion free.
Fast installation- Thanks to a smart self-anchoring system in longitudinal and transversal direction the slats can be fast and easily.