PHD Pro 6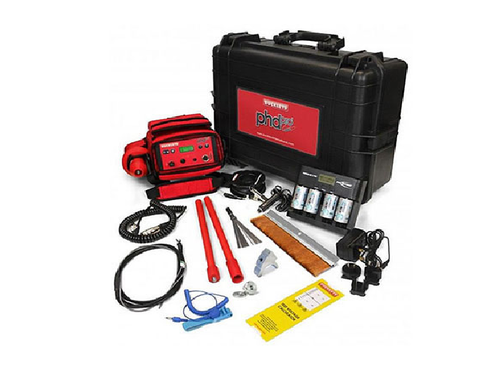 PHD Pro 6
Product Description
Features:
Compact and portable
Simple to use
Visual and audible alarm with volume control
Clear display and controls
Automatic output voltage select
Accurate sensitivity control
Robust cast aluminium outer casing
Compatible with older PD accessories
CE approved
Range of Application:
- Manufacture of reservoirs, tanks and containers, manufacture of plastic apparatus, ventilation systems, water treatment systems, scrubbers, environmental technology, swimming pools, transport and logistics.
- Our Pinhole / Holiday Detectors PHD Pro 6 enable inspectors to check quickly and effectively for porosity, pinholes and other faults in a wide range of non-conductive coatings and linings. Our units have been extensively used for many years in the petro-chemical, aerospace, pipeline construction and plastic fabrication industries. The PHD Pro 6 has been specially designed to incorporate new technology and is suitable for checking coating thicknesses of between 4 microns to 576 microns.
---
Technical Data
PHD Pro 6 B Item no. 32002
PHD Pro 6 S Item no. 32003
PHD Pro 6 C Item no. 32004
Output voltage range:
0.5 – 6 kV DC
Adjustable DC alarm sensitivity:
10 - 450 µA
Material thickness (mm):
4 - 576 µm
Operating Time (unit fitted with 10,000 mAh NiMH cells):
16 h
Test voltage formula:
NACE SP0274
Mark of conformity:
CE
Dimensions (L x H x W in mm)
172 x 85 x 235
Weight:
1.6 kg

consists of:


1 x PHD Pro 6 holiday detector
1 x test probe handle
1 x interconnecting lead
1 x drum brush electrode
4 x alkaline batteries
1 x 5 m earth lead on reel
1 x ESD anti-static wrist band
1 x User instruction manual
1 x calibration certificate
Supplied in a protective executive-style case











consists of:


1 x PHD Pro 6 holiday detector
1 x Test probe handle & interconnecting lead
1 x drum brush electrode
4 x rechargeable D-cell batteries and charger
1 x 5 m earth lead on reel
1 x ESD anti-static wrist band
1 x Trailing earth lea
1 x 332 mm insulated mid-section extension rod
1 x 332 mm insulated end-section extension rod
1 x Rolling spring electrode shoe and knurled locknut
1 x 250 mm phosphor-bronze brush electrode
1 x Testspannungsrechner
1 x Carry bag with shoulder strap
1 x User instruction manual and calibration certificate
Supplied in a protective executive-style case

consists of:


: 1 x PHD Pro 6 holiday detector
1 x Test probe handle & interconnecting lead
1 x drum brush electrode
4 x rechargeable D-cell batteries and charger
1 x 5 m earth lead on reel
1 x ESD anti-static wrist band
1 x 75 mm pointed probe electrode
2 x 332 mm insulated mid-section extension rod
1 x 332 mm insulated end-section extension rod
1 x 250 mm straight phosphor-bronze brush electrode (45° angled)
1 x Knurled thumb-nut & back nut
1 x Test voltage calculator
1 x Carry bag with shoulder strap
1 x User instruction manual and calibration certificate
Supplied in a robust, foam lined, high-visibility transit case




Contact Us
Plot No. 10006/C, Near Dhiraj Can, Karmatur Chowkdi, GIDC Estate,, Ankleshwar, Gujarat, 393002, India
Phone :+918045477327